On Friday afternoon, September 7th Mac Miller aka, Malcolm McCormick died at the age of 26. Autopsies have not yet revealed the exact cause of death but resources believe he went into to cardiac arrest after a drug overdose. Due to his many years of drug abuse. Even though it was believed to be drug related there was no substances found in his home to explain the young rappers sudden death. Everyone who he worked with knew about his addiction. His whole life he was very opened about his substance abuse and even admitted to doing drugs as young as 10 years old. They knew he was fragile but nobody expected to see this coming.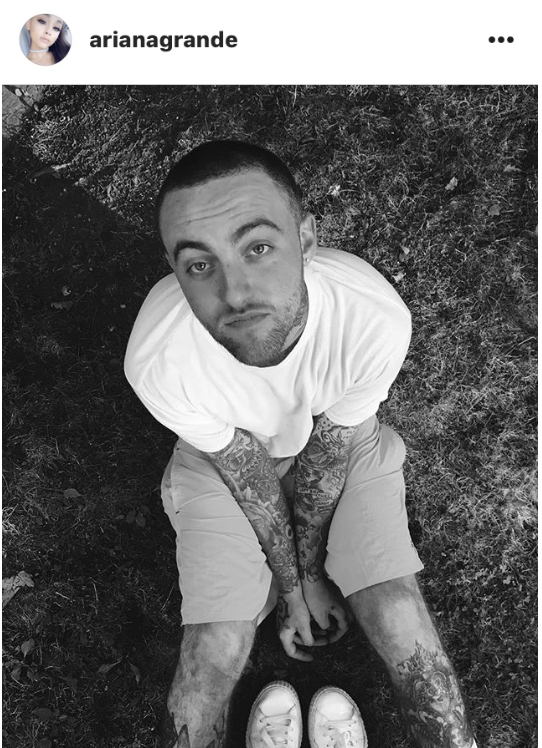 Many Miller fans feel to blame his ex girlfriend Ariana Grande for his death. they were involved in a two year relationship until Grande couldn't live with his substance abuse any longer and ended the relationship. Almost immediately after the break up, she gets engaged to her new fling; Pete Davidson. She has been being attacked all over social media even though her and Mac had no tension and he claimed Ariana was a great help trying to fight his addiction by his side. It seemed as if Mac was just starting to rebound and move on completely from her. Ariana hasn't yet spoke upon the tragic death but she honored him by posting a black and white photo of him with no caption and disables her commenting section. Simple and peaceful while keeping out the negative haters opinions.
After the death, many of his fans, friends and family payed there tribute to the rapper. His mother shared a picture of them together cheesing at a baseball game with just a simple broken heart emoji as the caption. Everyone else tweeted and shared many loving words and pictures with the deceased rapper. Including G-eazy, Wiz Khalifa, Post Malone and many; many others.
The night before Millers death he was spending quality time with his friends, watching the football game relaxing and having a genuine good time. Sources say that he spent his last night happy and surrounded by people that loved and cared about him as well as his well being. Mac Miller was a talented very loved young rapper and is mourned by many fans and close friends. Even though its claimed he was subjected to a drug overdose results from the autopsy won't be completely finished with results for weeks; at most a month.