Currently in Georgia women are allowed to undergo abortion procedures up until their 20th week of pregnancy. But Governor Brian Kemp has signed a bill that would ban abortions if a fetal heartbeat can be detected, which can be as early as six weeks into the pregnancy.
The legislation says that "no abortion is authorized or shall be performed if the unborn child has been determined to have a human heartbeat." It includes some exceptions, including if the pregnancy risks the life or poses substantial and irreversible physical harm to the pregnant woman.
"The bill is very simple but also very powerful: a declaration that all life has value, that all life matters, and that all life is worthy of protection," Kemp said Tuesday morning before signing the legislation at the state Capitol. "I realize that some may challenge it in a court of law. But our job is to do what is right, not what is easy. We are called to be strong and courageous, and we will not back down. We will always continue to fight for life."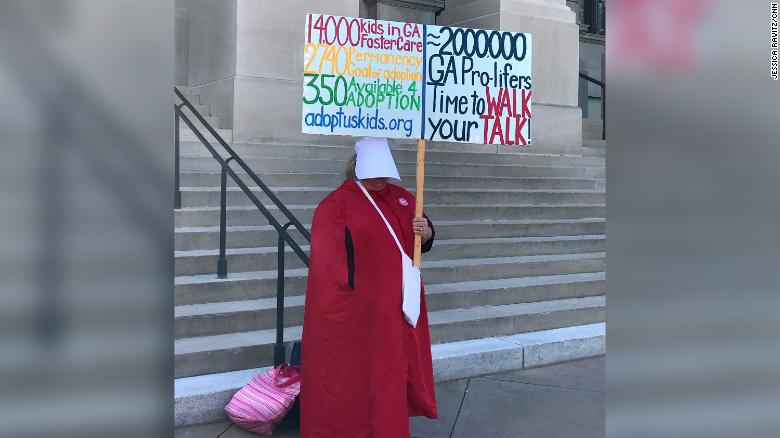 Critics, including the ACLU, say Georgia's legislation "would ban safe, legal abortion and criminalize the most intimate decision women and couples make." Outside of the Capitol, dozens protested the legislation Tuesday morning, including four women dressed in red cloaks in the style of "The Handmaid's Tale." The four stood in silent protest, holding signs with various messages, including "Trust Women."
Andrea Young, the executive director of the ACLU of Georgia, told CNN the organization is in the process of preparing a court challenge to the bill. She said the ACLU believes it's a clear violation of Roe v. Wade.
"Today's women can only thrive in a state that protects their most basic rights — the right to choose when and whether to start a family. Georgia can't afford to go backward on women's health and rights," Young said in a written statement on Tuesday. "We will act to block this assault on women's health, rights and self-determination."
Staci Fox, CEO of Planned Parenthood Southeast, said she had a few messages. To Georgia's governor, she said, "We will see you in court." To the lawmakers who supported the bill, she said, "We are coming for their seats."
Even anti-abortion groups no longer support the bill. Genevieve Wilson, the executive director of Georgia Right to Life, said the group "believes in promoting social justice for all preborn children, without exception." The bill includes exceptions for situations of medical futility or where the mother's health is at risk. The exceptions also include cases of rape or incest before the 20-week mark, only if an official police report has been filed.