Last Friday a certain Nevada town was bracing themselves for an intense alien raid at Area 51. Around 25,000 people were expected to storm into area 51 to catch some aliens and find out the secrets behind the walls. Keep in mind this little town has around 40 to 50 residents so they were prepared for the catastrophe they were about to face.
But what happened over the weekend did not go exactly how anybody expected. This event that had guards armed and ready for action ended up being an alien themed festival of people. Or in social medias words an "Alien Stock". Residents of the town were in shock but relieved that the crowd was manageable and not reckless. A young 22 year old man named Mathew Carswell who attended the event spoke to press claiming that it was "-honestly breathtaking" and was "-a really good atmosphere." Everyone was surprised about how great of a time they actually had at the festival. The number of guests was around roughly 3,000 people and they were people ranging from children, to couples, to older people and families. That were all just looking to have a good time. (time.com).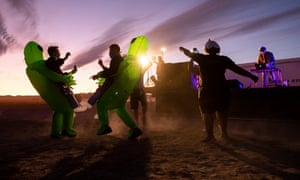 Everything went very smoothly last weekend. Attendants even said that the guards were very delightful, and nice to everyone. They were laughing and smiling the whole time. They even were helping take pictures of people and were taking pictures with people that asked. They even joked about people "Naruto running" towards the gate in a joking manner. The guards had just as much fun as everyone else was.
Despite a great time their were a few arrests made at the Alien Stock. Two men were found wandering pass the gate where there is no trespassing. They claimed to not understand English very well. But despite not understanding they should've been able to tell by the "No Trespassing" signs posted all over not to cross into the territory. The two men were taken into custody. A few other people were arrested for some unnecessary cautious or actions but besides that it was all around a great time for everyone one that was there. The Alien Stock is going to be an event that we will never forget about. Who knows, maybe it will become a yearly annual event!
It was a wholesome event for everyone including the residents of the town, officers and guards, and anyone that attended the festival and took part in the great time and energy they had together.