The possible candidates of 2020 presidency, and all of the information you need to know about them. So far we have 12 democratic runners, and 3 republican runners. Here below we will discuss the candidates main points/views and why they're running. 
Michael Bennett
"We have managed to acquire $13 trillion of debt on our balance sheet. In my view we have nothing to show for it. We haven't invested in our roads, our bridges, our waste-water systems, our sewer systems. We haven't even maintained the assets that our parents and grandparents built for us."
Senator from Colorado 

He is 55 years old

Democrat 

Apart of a group that created a immigration reform bill in 2013

He was diagnosed with prostate cancer
Joseph R. Biden Jr. 
"Our future cannot depend on the government alone. The ultimate solutions lie in the attitudes and the actions of the American people.
Democrat 

Once was our Vice President during Obama's presidency. 

Age 77

Senator from Delaware
Michael R. Bloomberg
"Well, we have to provide the world's best schools. We certainly don't have them, but that's our objective." 
77

Democrat 

Former Mayor of New York City 

Formerly ran for mayor as a Republican but in October registered as a Democrat 

He disagrees with bank regulations, and the #MeToo movement

Advocately for gun control, and climate change 
Pete Buttigieg
"Greatness will come by looking forward – untethered from the politics of the past and anchored by our shared values – and by changing our nation's future."
Democrat 

38 years old 

Military Veteran 

Former mayor of South Bend 

He wants to increase the amount of seats in the supreme court 

Focused on Climate Change, and improving our economy 
John Delaney
"People ask, 'How do you work with the other side?' Well, I start by not saying bad things about them." 
Democrat 

56

Former Congressman from Maryland 

Endorsed universal health care 
Tulsi Gabbard
"The best of our nation is exemplified by our nation's veterans who embody what it means to put service above self. Who have sacrificed their own personal interests out of a greater love for our people and our country." 
Democrat

38

Congresswomen from Hawaii 

Army National Guard Veterans 

Strongly opposes military intervention overseas
Amy Klobuchar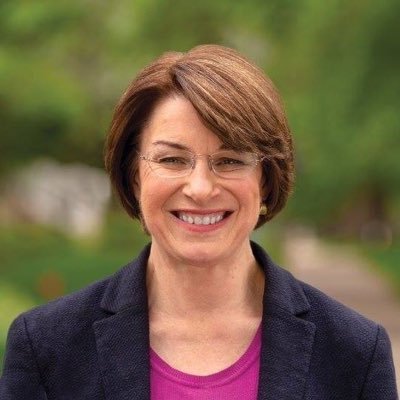 "In my job you can't just put your head in the sand and throw partisan bombshells. You have to get results."
Democrat

59

Senator from Minnesota 

Plans to win by focusing on the middle states votes

Trying to end opioid, and drug addiction, and lower the price of prescription drugs. 
Deval Patrick
"We need a government that is what we are at our best. Smart, efficient, pragmatic and compassionate."
Democrat 

63

Former governor of Massachusetts 

Executive at Bain Capital 

In 2006 he was the 2nd ever black governer in the U.S. 

Focused on economic growth, and created many jobs in Massachusetts 
Bernie Sanders
"Medicare for all" 
Democrat 

78

Senator from Vermont 

Former Congressman 

A democratic socialist 

In 2016 he was the runner up in the Democratic primary
Tom Steyer
"Donald Trump may be unusually flamboyant, but his views are all too representative of the party that is about to nominate him for president."
Democrat 

Billionaire, and a former hedge fund executive 

Impeachment, and Climate change advocate 

Promoting renewable energy 
Elizabeth Warren
"What I've learned is that real change is very, very hard. But I've also learned that change is possible – if you fight for it."
Democrat 

70

Senator from Massachusetts 

"Big structural change"

Always has a plan for everything she says…."I have a plan for that" 
Andrew Yang
"I'm a capitalist, and I believe that universal basic income is necessary for capitalism to continue."
Democrat 

45

Former Tech Executive 

Founded a nonprofit economic development 

His campaign is based on a "Universal Basic Income" of 1,000 per month for all Americans
Donald J. Trump
"No dream is too big. No challenge is too great. Nothing we want for our future is beyond our reach."
Republican

73

Wants to undo many things the Obama administration has put into action 

Impeachment Trial

Building a Wall

Canceling international deals 
Joe Walsh
"The best part of success is that it got me past the basic survival level of existence so that I was comfortable. I didn't have to worry about stuff pertaining to survival. Once that was taken care of, I got the chance sit down and create and work at what I do."
Republican

58

Conservative radio host

Former congressman from illinois 

in 2010, he served one term in the house

Reducing National Debt 
William F. Weld
"Much is forgiven anyone who relieves the desperate boredom of the working press."
Republican 

74

Former Governor of Massachusetts 

Former Federal Prosecutor 

Ran for Vice President in the liberation party in 2016

Fiscal Restraint

Moderate Immigration Reform 

Legalize Marijuana 
Don´t forget to vote
https://www.google.com/amp/s/www.nytimes.com/interactive/2019/us/politics/2020-presidential-candidates.amp.html