Featured Image Credit https://authenticwaffle.com/
Since Valentine's day is coming fast you are making your plans for you and your significant other. Cincinnati has some of the best romantic places for valentines day. One of these places is OTR. OTR stands for Over the Rhine. Over the Rhine has been very popular in the last 10 years. It has been built up and renovated a lot. Many big businesses have moved in over the years. Starting this Friday Over the Rhine is the place to go. 
Findlay Market
Findlay is having romantic music playing throughout the whole day. Findley market already has some of the best restaurants all ready. All types of food are served there. Might not be a place to go for sitting down and eating in a restaurant but it is great for a grab and go and see all the beautiful plants they have. Findlay is a great place to start sampling foods. They are calling their valentines day event "Sweet & Savory Stroll". There will be beer tasting and wine tasting with each station. Here are all the tasting stations,
OTR Escape Room
We all know about escape rooms, you might love them you might hate them but would you still not like it if you were locked in with you Valentine? They are calling it "I'd be Locked without you". It is $89 to reserve a room for two, 2 mini wine bottles and chocolate covered strawberries. Reserve your spot now to make sure you get a room. 
Memo Memorial Hall
If you are looking for a more romantic fancy place to eat here is where you should go. "The Phoenix's Chef Jeremy Luers collaborates with Elias Leisring on an eclectic, four-course dining experience." –memorialhallotr After each course you move through the ballrooms of the building and can look at the beautiful architect. Here is what it all includes, "Tickets to Valentines at the Memo include a four-course meal (appetizer, salad, entrée and dessert) and two alcoholic pairings (one cocktail, one glass of wine). When purchasing, please choose either Meat or Vegetarian offerings." –memorialhallotr
It is $70 person to get all that is shown above and $65 for groups 8 or more. There will also be live music for everyone to enjoy during the evening. It starts at 6 and goes all the way to 8:30. 
Walking Through Out OTR
OTR is a beautiful place to just walk through out. It has some of the best restaurants including The Eagle which is a great fried chicken place with some of the best mac and cheese you'll eat. They also have a bar with many selections. Gomez Salsa, one of the best mahi mahi tacos you'll eat some such good mango salsa.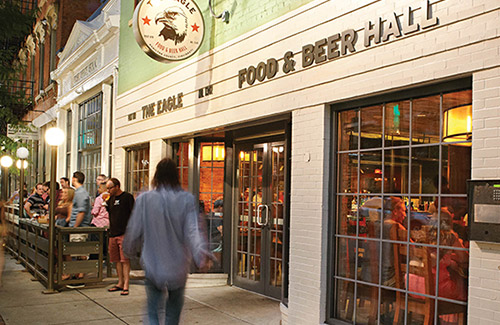 Taste Of Belgium is probably the best place to go for chicken and waffles.  If you are looking for a gourmet hot dog then The Senate is the place for you. Not only does OTR have food they have some very cute shops to look at all around. OTR can be a very special place to do and spend time with your Valentine, spend it well and have fun!